Step 10. Install MelcoRIP

You will need to have your printer setup and connected to your computer before installation of the Epson driver or MelcoRIP.

You need to install the Epson print driver that comes with your printer before you install MelcoRIP. Otherwise, you will have to manually set the ports for the PowerRIP Output Queue #1 & #2.
Overview
Installation
Insert the MelcoRIP CD into your CD drive:

 

(Return to Top)
You may see the following screen:

If you see the above, be sure that any previous versions of MelcoRIP have been removed before continuing.  You can do this from the Windows control panel under "Add/Remove programs", or you can click "OK" and uninstall using the uninstall wizard.  If you use the uninstall wizard you may need to restart the installation process after you successfully uninstall any old version of the program.
Click on "Install/Remove/Repair":

 

(Return to Top)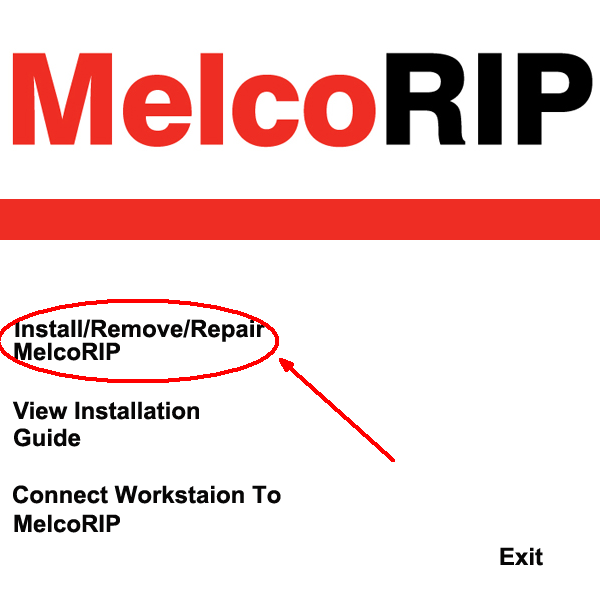 Start the "Installation Wizard":  (Return to Top)
The following screen will show up and you will need to click on the Next button to launch the Install Wizard for MelcoRIP. Click "NEXT"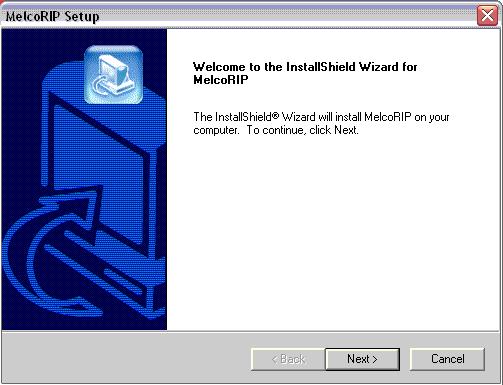 Agree to the License Agreement:

 

(Return to Top)
In order to install MelcoRIP on your computer you will have to agree to the license agreement.  Choosing to decline will result in exiting the installation wizard.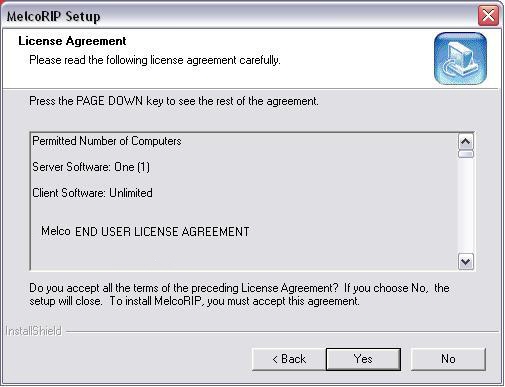 Complete "Customer Information" for future validation:  (Return to Top)
Type in your name, company name and Serial / Product Code number. The Product Code number can be found on the cover of the CD Case.  If you cannot locate your product code you can continue the registration process by entering EVALUATION in this field.  If you cannot locate your product code, email service@melco.com for assistance. Click "NEXT"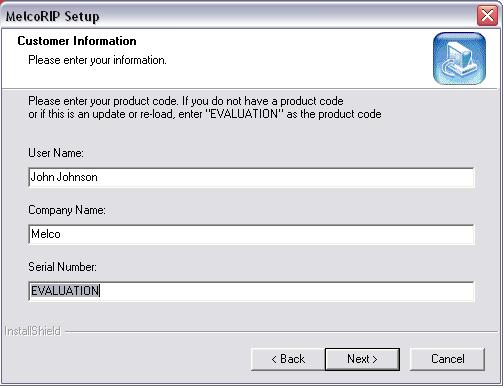 Select "Print Drivers" and your "Printer Type":  (Return to Top)
All of the appropriate Print Drivers will be selected based on your previous responses. You will need to select the "printer" that you own, either the MelcoJet (FP-125 and 2010 models) or the MelcoJet G2.  Click "NEXT"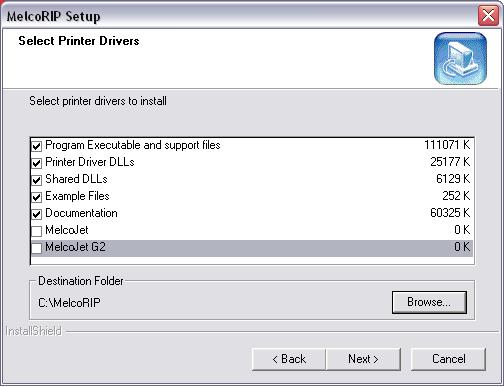 Select "Program Folder" (destination) for installation:

 

(Return to Top)
Select the location that you would like for the installation wizard to install MelcoRIP.  Select the location that is best for you.  For technical support reasons, we recommend to keep the "Program Folders" named "MelcoRIP".  Click "NEXT"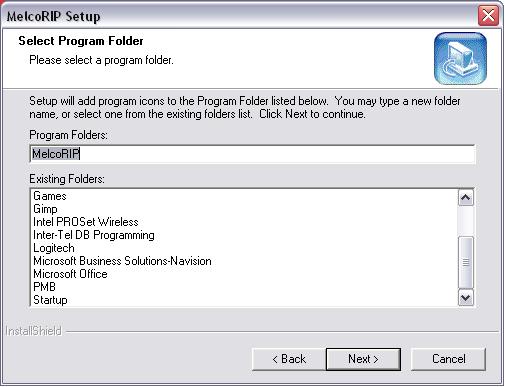 Create your "Print Queues" Part 1:  (Return to Top)
Based on which printer you selected from Step #6. all the correct queues will be already highlighted.  Click "NEXT"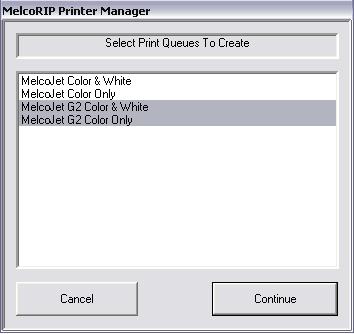 Create your "Print Queues" Part 2:

 

(Return to Top)
You will notice that a series of windows like the ones listed below will pop-up for each printer/configuration you selected up to this point.  Please click the "Yes" or the "OK" button for each window.


If you have already installed the Epson Printer Driver on your computer, the correct port will already be highlighted. Just click "Continue" (Note: you will do this for each printer you selected in step #6).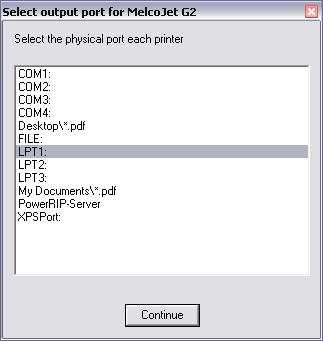 You will need to restart your computer before you can use the MelcoRIP software.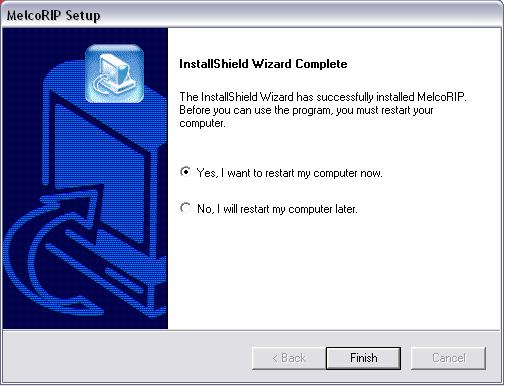 After your computer restarts, click on Start button and go to your Control Panel. Once the new screen opens up, you will want to go into the Printers and Faxes folder. You should see several new print drivers in this window.